Nobel Pauling Biotech Symposium
The Nobel-Pauling Biotech Symposium is in honor the life and works of Dr. Linus Pauling, awarded the Nobel Prize in Chemistry in 1954 and the Nobel Peace Prize in 1962.

---
---
The Goals of this Symposium are:
To build a biotech bridge between USA, Europe and Asia for new drug discovery
To encourage biotech collaboration between academia and the biotech industry
To share practical advice for students, postdocs, scientists and young CEOs
These symposia provide a great opportunity to learn about the latest advances in biotechnology from top scientists, and they are an ideal venue for meeting biotechnology and pharmaceutical company executives and decision-makers face-to-face. Every attendee also has the opportunity to give a one-minute "Smart Pitch" at the meeting to introduce themselves to the audience for future collaboration.
We are seeking speakers, volunteers and sponsors for the Nobel-Pauling Biotech Symposium.
If you are interested in participating please email alex@nobel-pauling.org.
---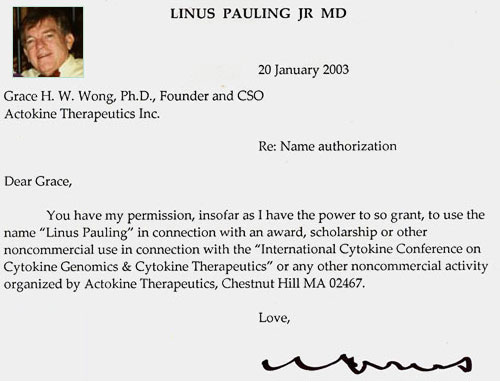 Dear Dr. Grace Wong, Thank you so much for organizing such an exciting and important symposium! It was a great pleasure meeting you and many other colleagues and experts from academia and industry. I learned a variety of new facts about the biotech and pharmaceutical industries and got very important contacts for future scientific collaboration. And above all, your enthusiasm, kindness and wisdom are inspiring and enlightening!
Leonid Gaidukov, PhD, Postdoc, MIT (Dec 26, 2013).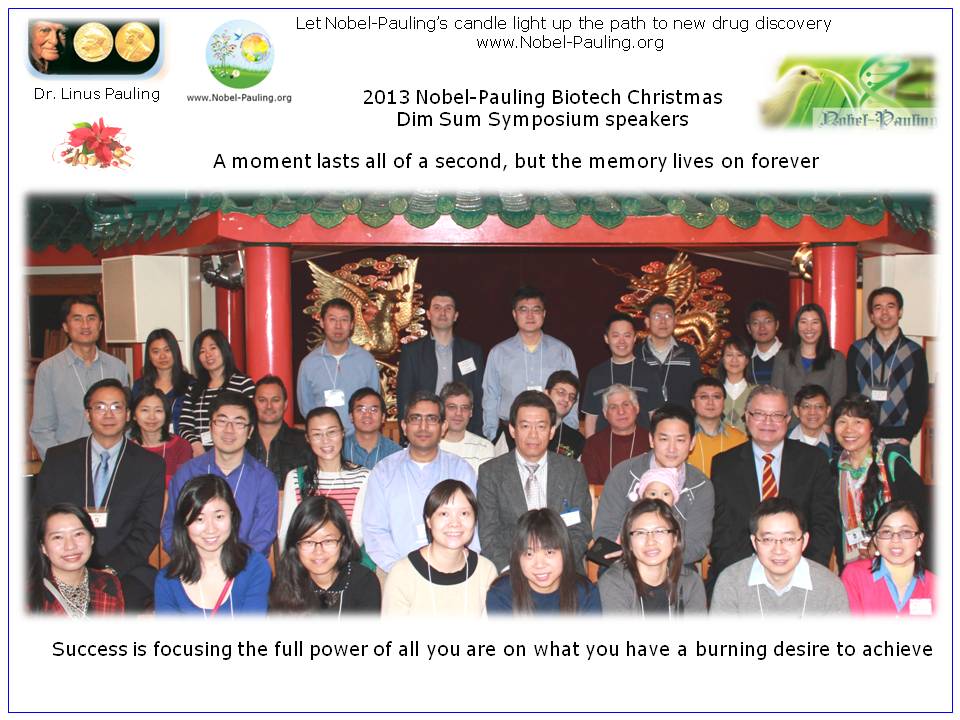 Dear Dr. Grace Wong, Thank you very much for letting me participate and introduce myself in the 2012 Nobel-Pauling Biotech Symposium. It was very interesting, and I am very glad for this experience and a chance to speak, network and meet scientists.
Izabela Durzynska, PhD, Queens University Belfast, Northern Ireland (Dec 27, 2012)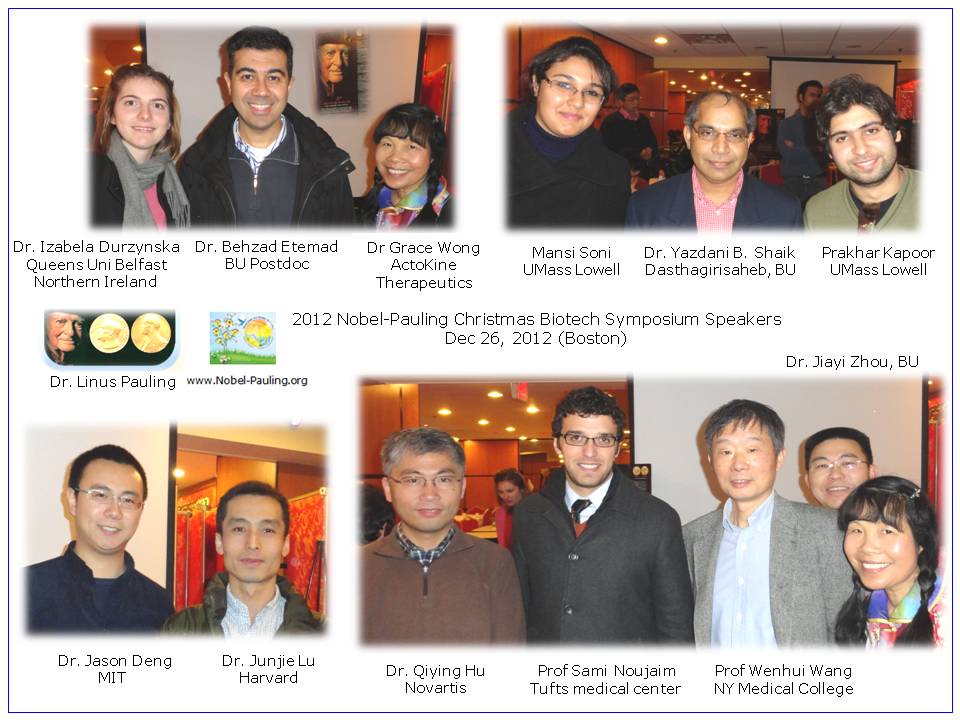 Hi Grace: Thank you very much for inviting me to participate the symposium. You have done a wonderful job to organize the Linus Pauling Biotech Symposium. I am enjoying the meeting very much.
Wenhui Wang, MD, PhD, Professor, Department of Pharmacology, NYMC (Dec 27, 2012)
Dear Dr. Grace Wong, Thanks for bringing scientists together to speak and share the Christmas holidays. Since everyone gave a smart pitch, I knew a little bit about everyone in the room by the end of the Nobel-Pauling Biotech Symposium.
Steven Bodovitz, Associate Director, Strategic Development, Aduro BioTech (Dec 27, 2012).
Dear Dr. Grace Wong, It was nice meeting you and hearing your presentation on Friday (April 6, 2012) at the University of Maryland. Thank you for sharing your time with us and providing guidance on working in academia and industry. It was helpful to hear your advice regarding working at small startup companies versus large well-known companies, as well as hearing your tips on networking and obtaining recommendations from our mentors. Speaking with you afterwards, it was also interesting to hear your thoughts on working in China. Thanks again for giving us your advice, and I wish you the best of luck with your biotech company!
Henry Lin, PhD, Postdoc, University of Maryland (April 10, 2012)
Dear Dr. Grace Wong, We are very grateful that you took the time to join us and share what you've learned about working in academia and industry at University of Maryland. I'm thrilled that your presentation inspired the postdocs to attend. Thanks again.
Earl Wagner, PhD. President, Computer, Mathematical, and Natural Sciences (CMNS) Postdoctoral Association,
University of Maryland, College Park (April 11, 2012).
Hi Grace, Thank you so much for getting the free passes for me and many students and postdocs. I really had a great time and enjoyed everyone's presentations at the Cancer Immunotherapy. You definitely inspire me to communicate to students and industry how lab automation (LRIG) can advance research. I hope to help you and Alex build bridges between academia and industry by providing opportunities for students/postdocs to meet biotech pharma scientists for collaborations and open innovations. .
Marsha Paul, Perkin Elmer & LRIG (Feb 29, 2012)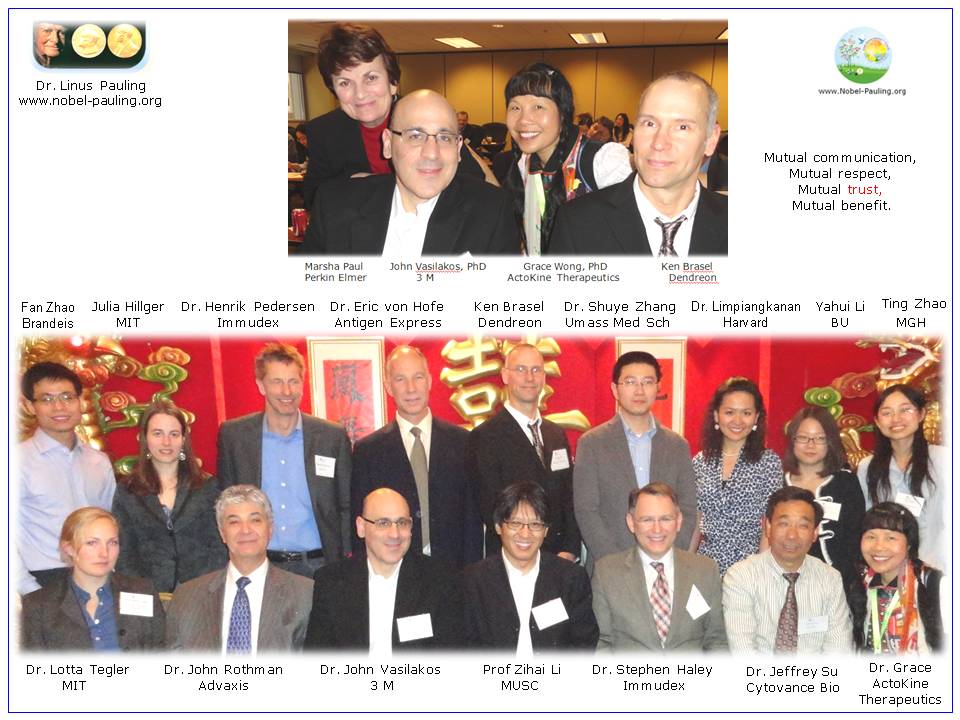 Dear Dr. Grace Wong, My sincerest thank you for the opportunity to sponsor the dinner and attend the Cancer Immunotherapy Summit in Boston. The presentations were of the highest quality. At least 2 new business relationships have been formed by our company as a direct result of our attendance. What made this conference unique was the atmosphere of collaboration and friendliness you facilitated. In no other gathering of our industry professionals have I found the attendees so engaged with one another. In our sometimes intensely competitive field, I am frankly amazed at the spirit of cooperation that prevailed. Over the longer term, it is human health that will benefit.
Stephen Haley, PhD, VP, Immudex (March 2, 2012)
The 2011 Linus Pauling Symposium in Boston was a wonderful opportunity and experience for me to see first-hand that the spirit and camaraderie among academic and biopharmaceutical scientists in promoting science is alive and well. It was a terrific way to pay tribute to the late Dr. Linus Pauling. It was a privilege to be part of the event.
Dr. Thomas Tan, Roche NJ (Dec 26, 2011)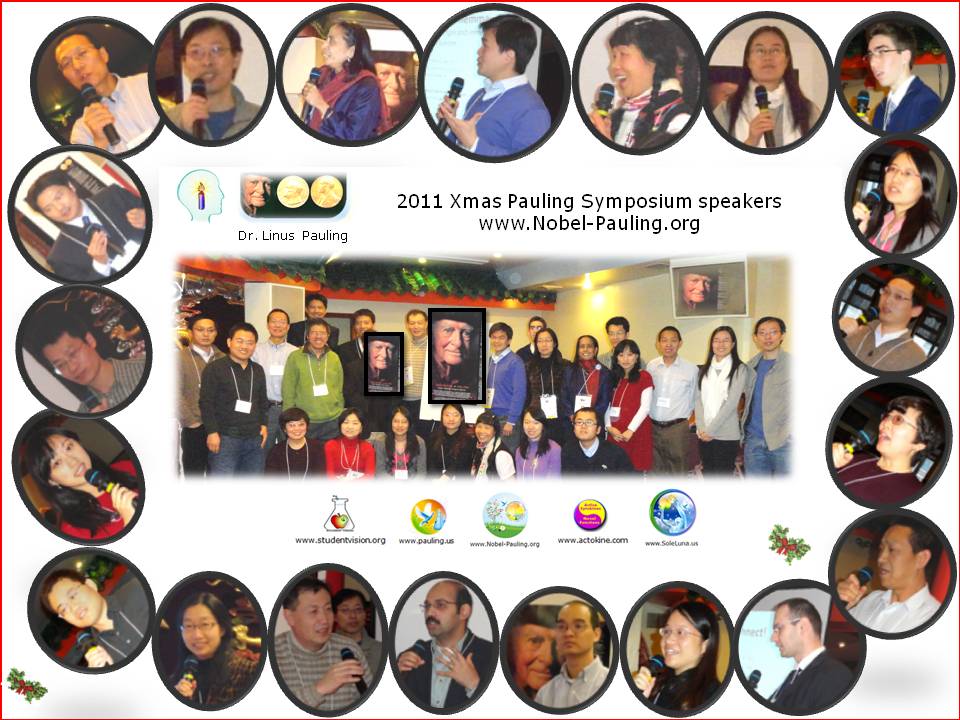 Note: All contents Copyright 2019. All photographs belong to Nobel-Pauling. If you would like to download or use any of these photos please contact Alex Pauling alex@ Nobel-Pauling.org or call 617-566-0511. Wish to be a sponsor, please send a logo to alex@ Nobel-Pauling.org.